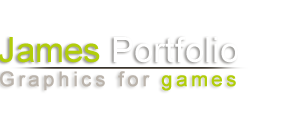 Student in areas of Game graphics development, looking for employment.
I am 24 years old and live in Denmark and a primarily self-taught student in various areas of 3D computer graphics; with lots of passion for the subject, and looking for employment in a creative environment!
View Portfolio
My Past
I've been working on my own game projects for a year in an attempt to start up a studio, currently developing a smartphone game "Everything Burns" with a group at ITU and a fantasy RPG (presently unnamed).
Other than that, I've done freelance work both in connection with smaller game projects offering help to students at the IT University. and large scale architecture and infrastructure productions with the Greek company "Sigma".
My Present
I am proficient with modelling tools Autodesk 3D Studio Max, Mudbox, Mari, Photoshop, and ZBrush. I have some experience in Motionbuilder and Unity 3D .

I have used these for modelling both organic and non-organic meshes, UV unwrapping and texturing my models, basic re-topology of characters, as well as basic rigging and animation. Comfortable with current-gen texturing procedures, including normal, AO, and light map baking
My Future
My future is a determined path to setting up a game company, and just being part of that evolving world is a remarkable prize!
Furthermore, I am currently elaborating my rigging and animation knowledge, and trying my hands at another passion of mine, CG cinematics and films.
Lastly, it is a dream of mine to research in new and exciting interfaces for games. Including all five senses and knocking down the walls between games and reality.
Personal Quote
CG Imagery has yet to find its limits, we are still pushing the boundaries, and I'm proud to become a part of that.